SCI Body Therapy is located inside FIT by Hyland Hills on the Northeast side of 120th and Federal. Our address is 2861 West 120th Avenue, Massage Suite, Westminster, CO 80234

We provide medical massage and bodywork for pain and injury rehabilitation. SCI Body Therapy is the only massage clinic in Westminster, CO and Broomfield, CO that specializes in the treatment of pain.

That means that if you live in north Denver that you have access to a team of massage therapists that use medical massage to help fix low back pain, rotator cuff issues, shoulder pain, disc herniation, runners knee, IT band issues and many other "chronic" conditions. For more information see our article on How massage can Help Pain.
"Massage near me" is subjective and only limited by how badly you want the problem fixed.

SCI Body Therapy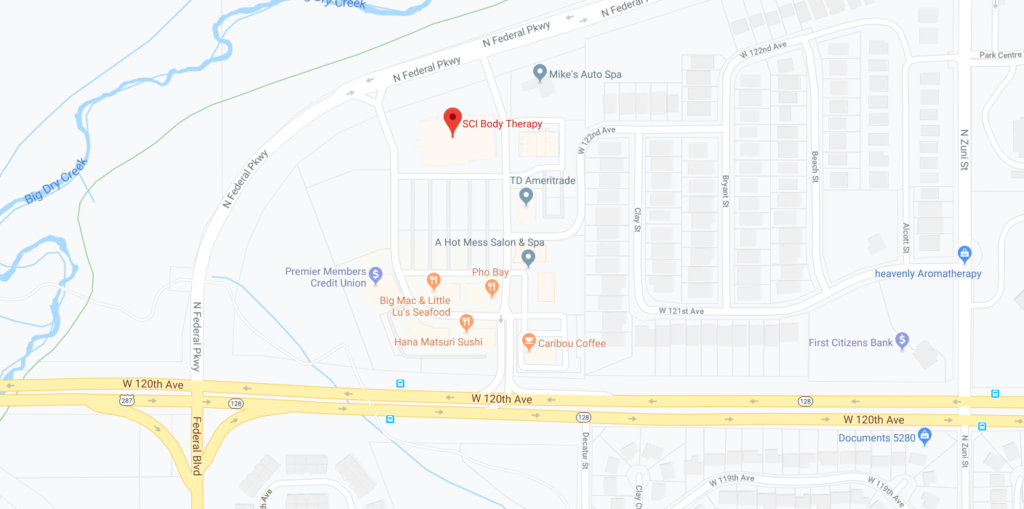 SCI Body Therapy was purposely set up to provide medical massage for Thornton, Northglenn, Westminster, and Broomfield. However we have clients who come see us all the way from Fort Collins and Centennial.

Which, if you've driven I-25, you know what a compliment that is!

These clients make the drive because they cannot find this type of massage work close by. They tried the big box massage places and found them to be heavy on the fluff and light on the actual problem solving.

And those places are great if you want to relax, but we think massage should be more than a really expensive nap. If you have a specific problem or are dealing with an injury that hasn't responded to other treatments it might be time to give medical massage a try.
"Massage near me" might mean something different to everyone and no matter where YOU are we hope you will give us a chance to get you back to doing what you love. We hope you are right down the street, but if you're not we hope you will consider making the drive to us.

If you need more convincing you should check out our reviews on Google.
Ready to book a Massage?